Original post 18/01/2021, updated 22-01-2021, updated 02-02-2021, updated 18-02-2021
We have had a huge number of queries from our patients in relation to the Covid 19 vaccines.
We have had some briefings as to what is happening in relation to the vaccination programme and we will try to answer some of the commoner queries we get here.
We will update this page regularly. Please take the time to read it all if you can!
It is refreshing to see the enthusiasm that is out there for information on the vaccine, but for now please do not call or e-mail the practice about it as we have included all that we know on the topic here.
***Please note that the information here is subject to change or amendment***
When will it be available?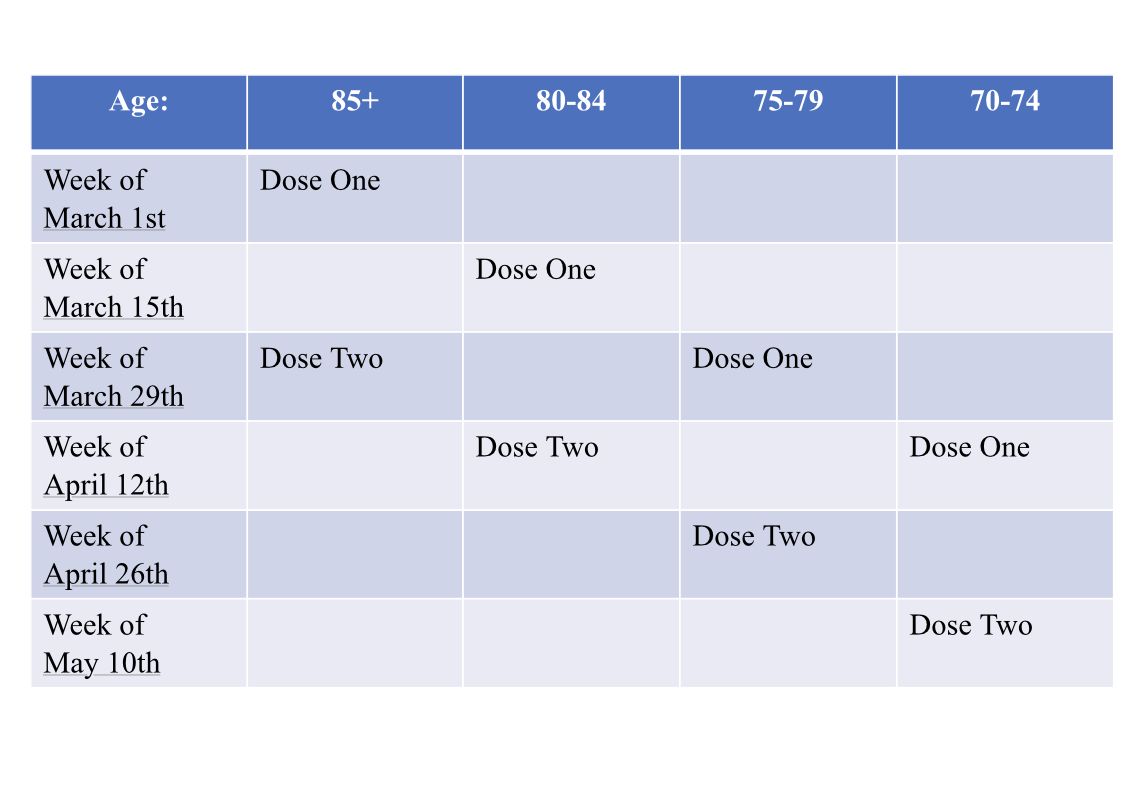 Who will be the first to receive it?
The first in the community to receive the vaccine will be the over seventies in the order below:
How will they be called for the vaccine?
Those eligible will be invited to attend their GP, likely in conjunction with a national information programme that started on Sunday the 31-01-2021. We will call our patients aged 85 and over from the week beginning February 22nd.
Can I put my name down on a list for the vaccine?
No. We are not operating a waiting list for the Covid 19 vaccine as we don't know for definite when the vaccine will be available.
I am 65 and have a chronic illness. Will I be called for it?
In the initial phase unfortunately no, those with pre-existing conditions will not be called early in the initial vaccine roll out.
I am over 70 but I am well, can I give my vaccine dose to someone else under 70?
No, this will not be possible.
If I am called for the vaccine, do I get to choose which one I receive?
You will not be able to choose which vaccine you can get (see next question as to why).
Which vaccine will be available in GP surgeries?
We will be vaccinating our patients with the Pfizer vaccine
How much will the vaccine cost?
Minister Stephen Donnelly has said that the Covid vaccine will be free to recipients.
Can I pay for the vaccine to get it earlier?
This vaccine will not be available privately. Please do not ask us if you can pay for it to get it earlier than scheduled as we cannot.
Do I have to be a registered patient of the practice to get the vaccine?
Yes. We can only administer the vaccine to those patients registered with us. We will not be administering the vaccine to patients who are registered to other practices.
How will I know when the vaccine will be available?
We will update this page, our practice facebook, instagram & twitter.
We have many worthy patients out there anxious to discover when the vaccine will be available, we share that apprehension and as we can confirm elements of the plan we will do so.
Thanks everyone.
Dr Martin, Dr Laura & Dr Niall